With the rapid increase in popularity, it seems like a new "keto" product is hitting the shelves daily. Ketogenic Certified was created to sift through new products and determine those that are legitimate.
Our goal is to protect the customer and help them easily distinguish legitimate products. If a product has the gold Ketogenic Certified stamp-of-approval you'll know immediately that it suits your lifestyle.
Not only do we help consumers, but our goal is to also help protect companies who are doing what's right and making truly ketogenic products. We test products in a state-of-the-art research facility to best identify its metabolic response in the human body.
What makes Ketogenic Certified different? We go beyond a simple label review. We understand that blood measurements are the gold standard of testing and certification. Every single product that we certify undergoes rigorous testing and analysis within a sample population. This ensures that both the ingredients and the metabolic response are sound.
Ketogenic Certified is the trusted stamp of approval so you know that what you're eating is truly ketogenic.
Apply NOW
Ketogenic Certified Options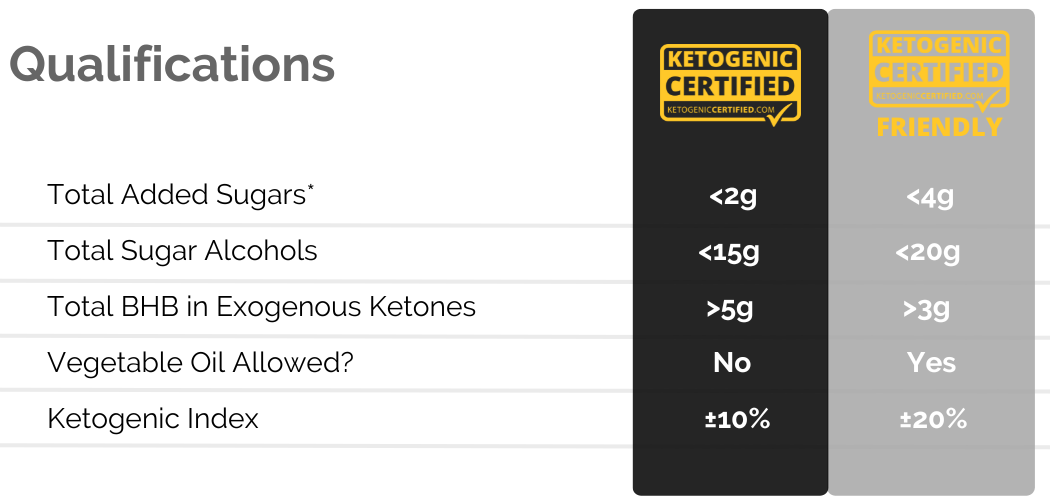 The Ketogenic Index is based on a statistical analysis of blood glucose and ketone levels.
The #1 keto research lab in the world.
We don't just look at a label. We test the product on a variety of different individuals to ensure that the product doesn't spike glucose or knock someone out of ketosis.
With over 21,000 square feet, our state-of-the-art research lab is able to determine a product's impact on metabolic markers and its true ketogenecity.
What makes Ketogenic Certified different?
1. Submit product for review
Simply enter your product's information into our submission form.
Apply NOW
2. Label review
Our team of experts perform an extensive review of your label to determine if your product meets our standards for testing.
3. Testing in lab
We test your product on a wide range of individuals, including some who live a ketogenic lifestyle and some that do not.
4. Analysis of findings
Upon completion of testing, we analyze and compare data across different measurements to determine if your product passes the test.
5. Stamp of approval
You are able to utilize the Ketogenic Certified stamp-of-approval on all of your products and marketing material to highlight the fact that your product is truly ketogenic.